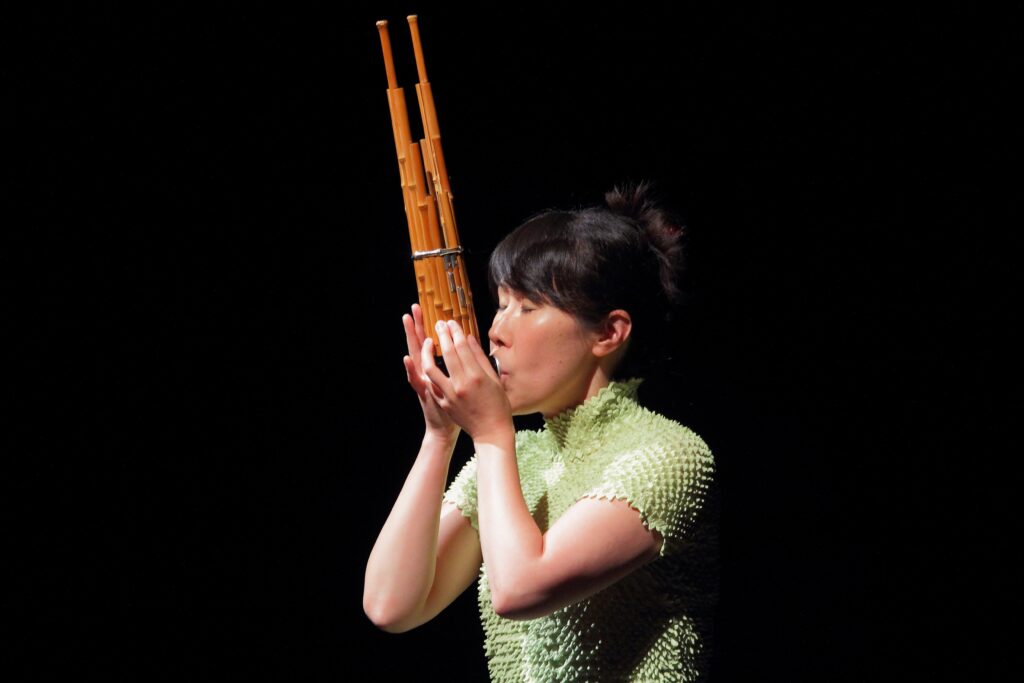 As a Sho player
She studied the Sho (Japanese traditional mouth organ) with Ko Ishikawa at the Tokyo National University of Fine Arts and Music, While studying the Saxophone as major subject. She has collaborated with many composers and Ensembles all over the world. Since 2004 She is the sho player in Atlas Ensemble (Amsterdam, Netherlands) and giving workshops in Atlas Academy.
She performed with Ives Ensemble, Nieuw Ensemble, Aurelia Saxophone Quartet, (Netherlands), Diotima Quartet, Ensemble Cairn (France), Fontana Mix Ensemble, Xenia Ensemble (Italy), Ictus Ensemble, B'Rock(Belgium), PHACE (Austria), Ensemble Resonanz (Germany), Shonorities (UK/Greece), Prague Modern (Czech), New Music Network Philadelphia, N-JP project (US), Vancouver Intercultural Orchestra and Orchestra Metropolitain(Canada).
She was invited to the music Festivals like Estovest Festival (2014 in Italy), MA Festival(2015 in Belgium) Ars Musica (2016 in Belgium), Royaumont Festival (2017 and 2020 in France), Nasimi Festival (2018 in Azerbaijan).
Also participating the music theater productions "Rette Uns, Okich" (production of Neuköllner Oper in Berlin 2017 and rerun in 2018), "Koerikoeloem" (production of Gaudeamus muziekweek in Utrecht 2017-2019), "De Yoshi and Musek vum Wind" (production of the Philharmonie Luxembourg in 2018), "The Key" (Tête à Tête Opera Festival in London 2019).
She has given solo recitals and chamber music concerts in Japan, Netherlands, Belgium, Luxembourg, France, Germany, Italy, Spain, Denmark, Finland, Greece, America, Canada and Australia with member of her chamber music grope Duo X Project, Japanese traditional instrument trio KODAMA(Sho+Shakuhachi+Koto) and Pochan (sho + percussion) and so on.
She gave lecture concerts about 'Contemporary music scene through Japanese traditional music' in Conservatorium van Amsterdam(2000), North Eastern University (2005), UM Dartmouth (2005), University Melbourne (2006), UC Davis (2009) and Istanbul Bilgi University (2010). She gave composers workshops in University of New Mexico, University of Illinois, University of Chicago, Brigham Young University (2013), University of British Columbia and University of Victoria(2014).
As a Saxophonist
She graduated from the Tokyo National University of Fine Arts and Music in 1998.
She finished 2nd phase saxophone studying at the Conservatorium van Amsterdam in 2002.
She also studied improvisation and composition at Conservatorium van Amsterdam.
Naomi is the Semi Finalist of the 2nd International Adolphe Sax Concours in Dinant(1998), and the 3rd prize winner of Saxophonewettbewerb Gustav Bunke in Hannover(1999). She studied the saxophone with Nobuya Sugawa(Tokyo), Arno Bornkamp(Amsterdam) and Claude Delangle(Paris).
She had played with Philharmonic Orchestra of Tokyo National University of Fine Arts and Music(Tokyo, Japan), Orcketre de l'Academie europeenne de musique with Pierre Boulez (Aix-en Provence, France), Ensemble Lucilin (Luxembourg), het Residentie Orkest(The Hague, Netherlands), het Ives Ensemble(Amsterdam, the Netherlands), Axyz Ensemble(Amsterdam, the Netherlands) and Ensemble Labyrint(Amersfoort, the Netherlands).